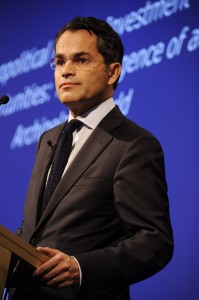 "We are in a political risk environment unlike any we've seen in the last 25 years," declared Oxford Analytica CEO Nader Mousavizadeh in his speech today at the fourth annual CFA Institute European Investment Conference in Paris.
Mousavizadeh, who joined the London-based global analysis and strategic advisory firm after serving as special assistant to UN Secretary General Kofi Annan, went on to explain that we are in the midst of a fundamental crisis of confidence, with citizens around the world lacking faith both in markets and in the ability of political leaders to follow through on promises.
Greece provides an excellent example of the strained relationship between many states and their peoples, Oxford Analytica's CEO noted. The surprise call for a referendum on austerity measures by Greek Prime Minister George Papandreou may be seen as a political risk for the embattled politician, but it in fact may be necessary to establish his political legitimacy.
Will the Greeks vote for austerity measures for themselves? While the outcome is uncertain, either way Papandreou will have given control back to the Greek people, Mousavizadeh asserted, adding:  "The euro has been 99% an elite proposition."
By the numbers, Greece is small — less than 2% of eurozone GDP — but it marks a politically powerful chapter in the story of the common currency: If the Europeans cannot deal with Greece, Mousavizadeh asked, how can they deal with the other countries that are sure to encounter risks of their own?
Mousavizadeh also addressed the rapidly changing geopolitical landscape. He outlined the trend he sees toward the development of an "Archipelago world" —  a structural shift to a global system where countries act as islands unto themselves, disjointed in their purposes and focused only on their individual interests. This world is increasingly fragmented, and reverses the globalization forces espoused by New York Times foreign affairs columnist Thomas Friedman in his best-selling book The World is Flat. But Mousavizadeh noted, "that world is gone and is not coming back." In his view, the globalization we've already experienced — and that inspired efforts like the creation of the eurozone — does not seem to have delivered in terms of growth or equality.
Mousavizadeh mentioned five main implications of this new global framework:
Ours will be a world of multiple forms of governance and politics, with varying degrees of state involvement in the economy and corporate enterprises.
There will be more vertical integration of the state and government-owned enterprises, and more countries will support national champions.
Expect more nationalist politics.
Look for the rise of nations that are outside traditional power centers. Mousavizadeh expects to see countries like Turkey, Brazil, Indonesia, South Africa, and Egypt play more assertive roles in global affairs.
Finally, a bit of long-term optimism regarding future policies: Mousavizadeh contended that the G20 is a good reflection of the changing map of the world, representing 80% of global output and two-thirds of the world's population.
How does the rise of the Archipelago world  play out beyond the eurozone? From the Arab spring to the Occupy Wall Street protests to Beijing's fear of the rise of a young, networked generation, the underlying theme is one of discontent. This discontent will manifest differently in each nation, but it should not be ignored.
So what are the implications for financial professionals?
Most importantly, investors must consider this "messy multilateralism" — a term coined by session moderator and CFA Institute board member Roger Urwin — when designing their investment process. Mousavizadeh urged investors to embrace "macro diligence," which should be recognized as just as important as the legal and accounting aspects of the research process. While it may be difficult to integrate these non-quantitative factors, it can and should be done, Mousavizadeh asserted, at an ever-more granular level as countries in the emerging Archipelago world increasingly diverge in their goals.